ORIGO STUDIOS
STAGES & FACILITIES
HOLLYWOOD STANDARD STAGES & FACILITIES IN BUDAPEST
10 stages (8 soundstages, 2 VFX/multimedia stages) totaling 18,000 sqm (195,000 sq ft)
4 hectares (10 acres) of back lot
High quality soundproofing and acoustics
All stages fitted with heating and air conditioning, full overhead grid and large loading doors
Ample office space available right next to your sets
Easily accessible warehouses for storage of props, costumes and equipment
Privacy and security within the studio boundaries
High tech and secure IT infrastructure
High bandwidth fiber optic connection between stages and posthouse
Services and Staff to suite all your needs
SOUNDSTAGE 1
Length
Width
Weight
Size
Floorplan
SOUNDSTAGE 2
Length
Width
Weight
Size
Floorplan
SOUNDSTAGE 3
Length
Width
Weight
Size
Floorplan
SOUNDSTAGE 4
Length
Width
Weight
Size
Floorplan
SOUNDSTAGE 5
Length
Width
Weight
Size
Floorplan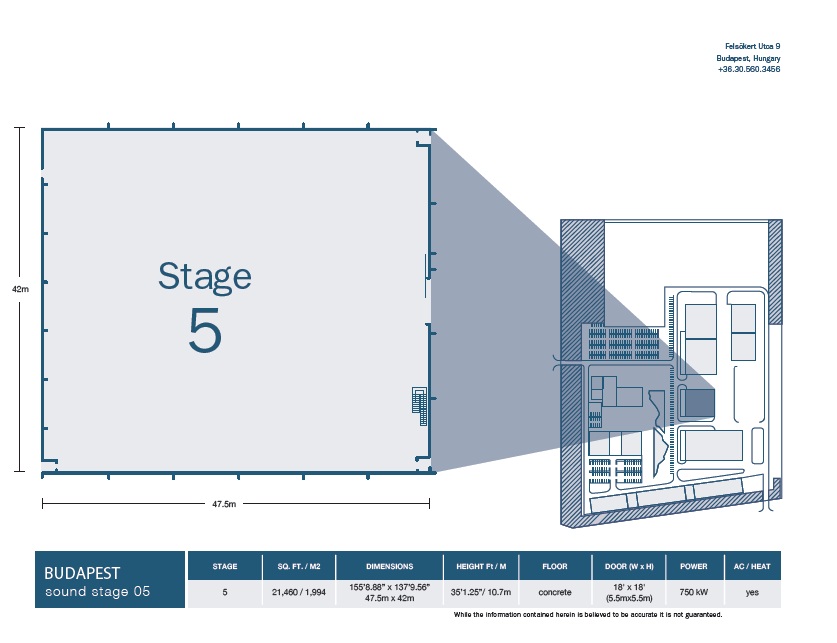 SOUNDSTAGE 6
Length
Width
Height
Size
Floorplan
SOUNDSTAGE 7
Length
Width
Height
Size
Floorplan
SOUNDSTAGE 8
Length
Width
Height
Size
Floorplan
STAGE 9
Length
Width
Height
Size
Floorplan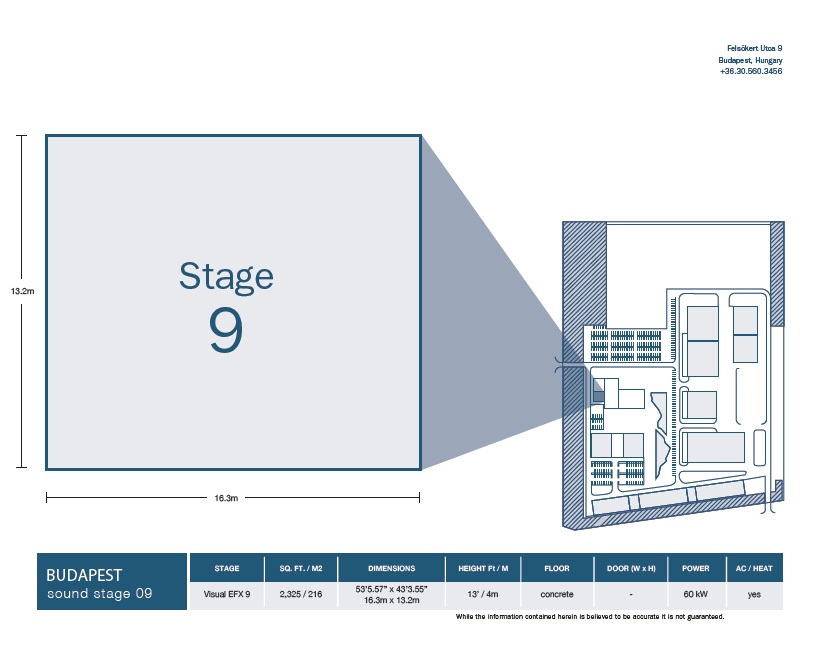 STAGE 10
Length
Width
Height
Size
Floorplan
(for virtual set, multimedia, vfx, TV)
OFFICE BUILDINGS TO HOUSE PRODUCTION OFFICES
4 office buildings attached to the soundstages
Total 2899 sqm offica space for rental
Comissiary building available
Full service (IT, furniture, etc) available 
Building A
Adjacent Stage
Size
1st floor
2nd floor
Building B
Adjacent Stage
Size
1st floor
2nd floor
Building C
Adjacent Stage
Size
1st floor
2nd floor
Building D
Adjacent Stage
Size
1st floor
2nd floor
Comissary
Adjacent Stage
Size
1st floor
2nd floor
Ground floors house make up rooms and dressing rooms accessible directly from the adjacent soundstages.
13 warehouses and workshops are available onsite, close to the soundstages totalling 7567 sqm
❆ Warehouses no. 29-33 are air conditioned.
GREEN STAGE AND WATER TANK
Use our standard 100 sqm greenbox stage or 28x18x3 m size water tank for filming, VFX or still photo shooting.